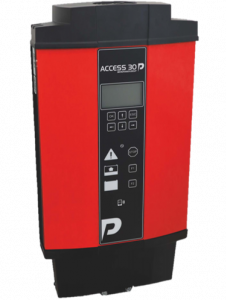 The Access 30 and Lion 30 battery charger series from Micropower Group have been upgraded with a display and service keyboard. With the new display it becomes easier for operators to navigate, install and configure in the field when needed. The battery chargers are equipped with NFC tags and fully compatible with the GET fleet management system from Micropower, which enables interactive trouble shooting and connectivity to the cloud. The firmware is the same as other Access and Lion models, making the user interface familiar for operators of Micropower products.

The Access 30 and Lion 30 battery chargers have capacities between 1,1kW and 3kW, and will be an addition to existing 30 models without display. The Access 30 and Lion 30 with display are 1-phase battery chargers and have a primary voltage of 220-240VAC, secondary voltage 24V and 48V. The battery chargers are perfect to serve as standalone or as onboard battery chargers in several industrial applications e.g. in the automotive industry as an onboard charger in smaller electrical trucks. The battery chargers are certified according to CE standards.

The standard performance has an IP20 protection but can without display be delivered with an IP66 enclosure that is suitable for harsh and demanding environments.

For more information about the Access 30 or the Lion 30 (for Li-ion batteries) battery charger with display, contact your local sales department or sales@micropower.se.